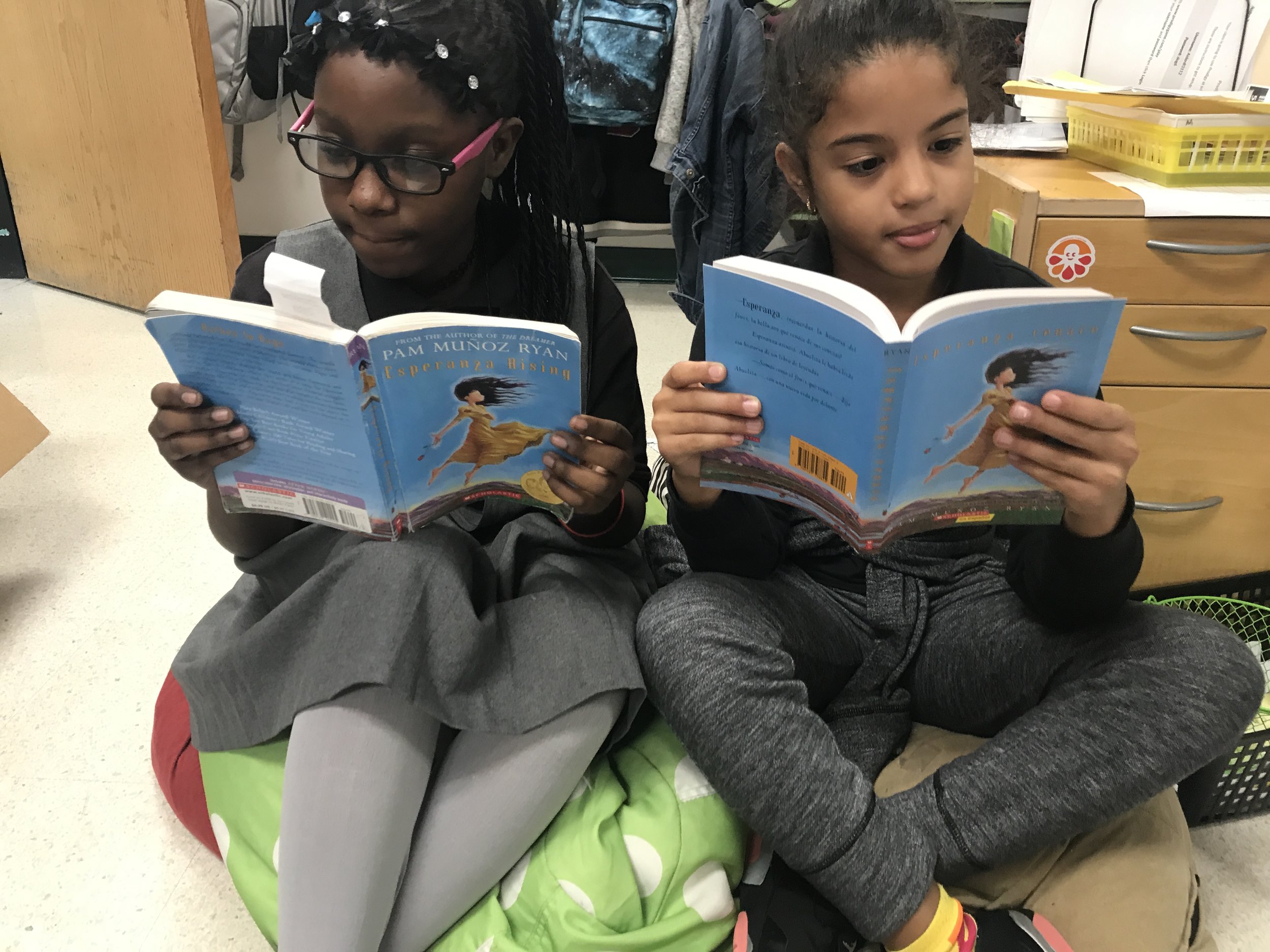 Dear Families,
It has been an absolute joy to get to know the children throughout these initial weeks of school. During my classroom visits, I've seen Kindergarten students participating eagerly during Morning Meeting. I've seen 3rd grade students create solo dances in dance class that challenged them to demonstrate three ways they express themselves to compliment the unit of study How We Express Ourselves that they were being taught in their classroom. I've seen 5th graders reading an amazing book, Esperanza Rising by Pam Munoz Ryan, and having thoughtful discussions with partners in which they made claims and defended their responses with evidence from the text. The students (and teachers) are truly doing amazing, highly-quality work that will put them on the path to academic and personal success. Have a productive and positive week!
Warm regards,
Kristan Norgrove
Chief Academic Officer
In an effort to keep families informed about their child's academic progress, we will distribute progress reports on Friday, October 20th. Please be sure to check your child's backpack on Friday to look for this important document. On the progress report you will find a summary of what your child has been learning throughout this first unit. You will also see your child's individual strengths and their goals listed at the bottom. We ask each family to review the progress report and discuss it with your child. Celebrate the strengths! There are so many things your child is doing well and we must recognize their successes. Please also talk to them about their goals so they have a clear understanding of the ways we are looking for them to develop over the upcoming weeks. Don't hesitate to reach out to the classroom teacher if you have any questions about your child's progress in school.
Anti-Bullying Workshop and Unity Day
Huge shout out to all of the families who attended our Anti-Bullying Workshop last week. Global Community Charter School is a safe environment for students and we want to work in partnership with families to ensure it remains a nurturing, comfortable place for children to learn and grow. We will continue to speak with students throughout the month of October to ensure they understand what bullying is and to ensure they are kind and accepting of everyone. On October 25th, we will celebrate Unity Day. On this day all schools around the country that are participating in National Bullying Prevention Month will wear orange shirts. We would like all students to come to school wearing an orange shirt so we can symbolically demonstrate that we all stand against bullying at GCCS. If your child is not going to participate and wear orange, they should come to school in their regular school uniform.
Harvest Festival
The Harvest Festival is right around the corner! We would love to see all families at this annual event. The event will take place on October 26th from 3pm - 6pm. Please reach out to Angel Morales, our Community Resource Developer, at amorales@globalcommunitycs.org if you have any questions or comments about the Harvest Festival. As a new leader at GCCS, I'm looking forward to my first Harvest Festival.
See you there!
October 20th - Progress Report
October 25th- Hispanic Month Assembly (students only)
Unity Day- students can wear something orange to create anti-bullying awareness
October 26th- Harvest Celebration 3:00pm-6pm
November 1st- Picture Day
________________________________________________________________________________________________________
Queridas familias,
Ha sido una alegría absoluta conocer a los niños durante estas primeras semanas de escuela. Durante mis visitas a la clase, he visto estudiantes de kindergarten participar con entusiasmo durante la reunión de la mañana. He visto a estudiantes de tercer grado crear bailes en solitario en la clase de baile que los desafiaron a demostrar tres maneras en que se expresan para complementar la unidad de estudio "Como nos Expresamos" que se les enseña en su salón de clases. He visto estudiantes de 5º grado que leyendo un libro asombroso, Esperanza Rising de Pam Munoz Ryan, y que tuvieron discusiones reflexivas con sus compañeros en los cuales hicieron reclamaciones y defendieron sus respuestas con evidencia en la lectura. Los estudiantes (y los maestros) realmente están realizando un trabajo increíble y de alta calidad que los colocará en el camino hacia el éxito académico y personal. ¡Tenga una semana productiva y positiva!

Un cordial saludo,

Kristan Norgrove
Directora Académico
Informe de progreso
En un esfuerzo por mantener a las familias informadas sobre el progreso académico de sus hijos, distribuiremos informes de progreso el viernes 20 de octubre. Por favor, asegúrese de revisar la mochila de su hijo el viernes para buscar este importante documento. En el informe de progreso, encontrará un resumen de lo que su hijo ha estado aprendiendo en esta primera unidad. También verá las fortalezas individuales de su hijo y sus objetivos que figuran en la parte inferior. Le pedimos a cada familia que revise el informe de progreso y lo discuta con su hijo. ¡Celebra las fortalezas! Hay tantas cosas que su hijo está haciendo bien y debemos reconocer sus éxitos. También hable con ellos sobre sus objetivos para que tengan una comprensión clara de las formas en que los buscamos desarrollar durante las próximas semanas. No dude en comunicarse con el maestro de la clase si tiene alguna pregunta sobre el progreso de su hijo en la escuela.

Taller anti-intimidación y día de unidad
Le agradezco a todas las familias que asistieron a nuestro Taller Anti-Bullying la semana pasada. Global Community Charter School es un ambiente seguro para los estudiantes y queremos trabajar en asociación con las familias para asegurarnos de que siga siendo un lugar propicio para que los niños aprendan y crezcan. Seguiremos hablando con los estudiantes durante todo el mes de octubre para asegurarnos de que comprenden lo que es el acoso y para asegurar que sean amables y acepten a todos. El 25 de octubre, celebraremos el Día de la Unidad. En este día, todas las escuelas de todo el país que participan en el Mes Nacional de Prevención de la Intimidación usarán camisas naranjas. Nos gustaría que todos los estudiantes vayan a la escuela con una camisa anaranjada para que podamos demostrar simbólicamente que todos nos oponemos a la intimidación en GCCS. Si su hijo no va a participar, deben venir a la escuela con su uniforme escolar regular.
Fiesta de la cosecha

Fiesta de la cosecha
¡La Celebración de la Cosecha está a la vuelta de la esquina! Nos encantaría ver a todas las familias en este evento anual. El evento se llevará a cabo el 26 de octubre de 3 a 6 p. m. Comuníquese con Angel Morales, nuestro Desarrollador de Recursos Comunitarios, amorales@globalcommunitycs.org si tiene alguna pregunta o comentario sobre la Celebración de la Cosecha. Como nueva líder en GCCS, espero con ansias mi primera Celebración de la Cosecha. ¡Te veo allí!
20 de Octubre- Informe de progreso sera enviada a casa
25 de Octubre- Asamblea celebrando el Mes Hispano ( solo estudiantes)
Dia de Unidad- los estudiantes pueden utilizar cualquier articulo color naraja para crear conciencia anti-bullying.
26 de Octubre- Celebracion de la Cosecha, 3pm-6pm
1ro de Noviembre- Dia de fotos escolares